Want to take your first step towards a healthy lifestyle but wondering where to start from? Well, we have you covered! It is rightly said that 'A Healthy Mind is a Happy Mind'! But we do know what your mind craves for as soon as you think of diet or workouts.
Eat right and start working out with Fitternity
Use code : ARTSELECT to get an exclusive discount on OnePass Virtual
So here's our cheat code for our tempting tongue and captivating mind! Why not replace your post-workout meal with Healthy yet Tasty quick bite! Wondering what could be a healthy yet tasty quick bite after your workout? Here's our suggestion - a scrumptious finger-licking Energy Bar!

Energy bars offer a healthy dose of protein and fiber, are low in sugars and saturated fat.
With a wide range available in the market, we know choosing one can be difficult. Consider checking for Energy bars that are made of whole grains like rolled oats, nuts, peanut butter, or fruit at or near the top of the ingredient list!

To dig into your chocolate cravings, here's a quick recipe of Honey-Sweetened Almond Chocolate Chip Granola Bars! Your post-workout snack or mini-meal.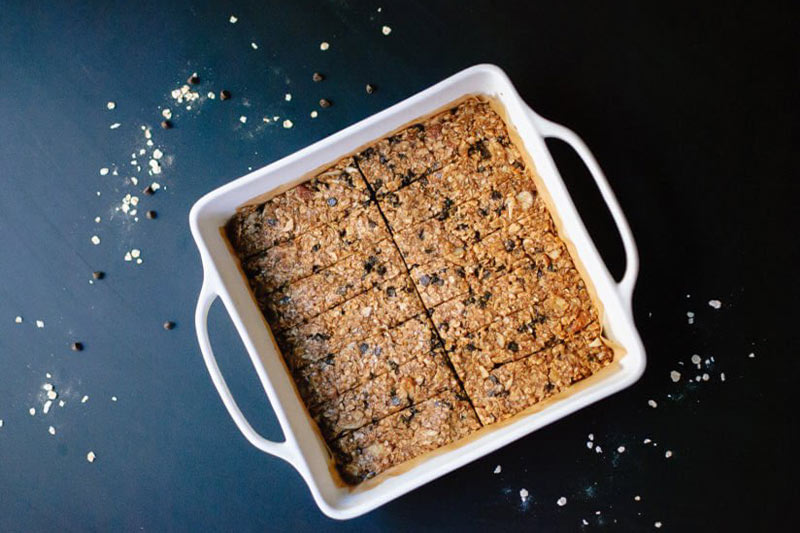 INGREDIENTS:
- 1 ¾ cups quick-cooking oats
- 1 ⅓ cup sliced almonds
- ⅔ cup mini dark chocolate chips
- 1 teaspoon ground cinnamon
- ½ to ¾ teaspoon salt, to taste (decrease if your almond/peanut butter is salted)
- 1 cup creamy unsalted almond butter or peanut butter
- ½ cup honey
- 1 ½ teaspoons vanilla extract

INSTRUCTIONS:
- Line an 8 to 9-inch square baker with two strips of crisscrossed parchment paper, cut to size. In a mixing bowl, combine the oats, almonds, chocolate chips, cinnamon, and salt. Whisk to combine.
- In a 2-cup liquid measuring cup, measure out the nut butter. Top with ½ cup honey and the vanilla extract. Whisk until well blended. If you must, you can gently warm the liquid mixture in the microwave, but make sure it's cool before you pour it into the dry mixture (the chocolate chips will melt).
- Pour the liquid ingredients into the dry ingredients. Use a big spoon to mix them together until the two are evenly combined and no dry oats remain. The drier the mixture, the more firm the bars will be, so stir in extra oats if the mixture seems wet.
- Transfer the mixture to the prepared square baker. Use your spoon to arrange the mixture fairly evenly in the baker, then use the bottom of a flat, round surface, covered in a small piece of parchment paper, to pack the mixture down as firmly and evenly as possible.
- Cover the baker and refrigerate for at least one hour, or overnight. Use a sharp knife to slice the bars. For portability, you can wrap individual bars in plastic wrap or parchment paper. Bars keep well for a couple of days at room temperature, but we recommend storing individually wrapped bars in a freezer-safe bag in the freezer for the best flavor.

We also do understand that each individual has a different approach when it comes to diet and what better than having advice from an expert! The best part, we can guide you to the best Nutritionist or a Health Coach who can customize a fitness plan just for you! Click here to know more!

Happy healthy snacking!
PS: Don't let the cravings get on you, maintain distance from sugar-coated energy bars to stay fit and healthy!

Recipe Credit: CookieAndKate