The Fit India Movement was launched on August 29, 2019, by the Prime Minister, Narendra Modi and it gathered the participation of over 3.5 crore Indias in various events! During the Fit India Dialogue 2020, PM Narendra Modi interacts with fitness influencers from different backgrounds.
In his conversation with Devendra Jhajharia, Indian Paralympic javelin thrower, the sportsman narrates how he used to exercises with hardships as he could not procedure the equipment.
PM, Narendra Modi comments the Jammu and Kashmir footballer Afshan Ashiq for her success. She shares her fitness regime, mentioning that she mediates every morning. MS Doni is her inspiration and advises the youth to learn lessons from him and his achievements.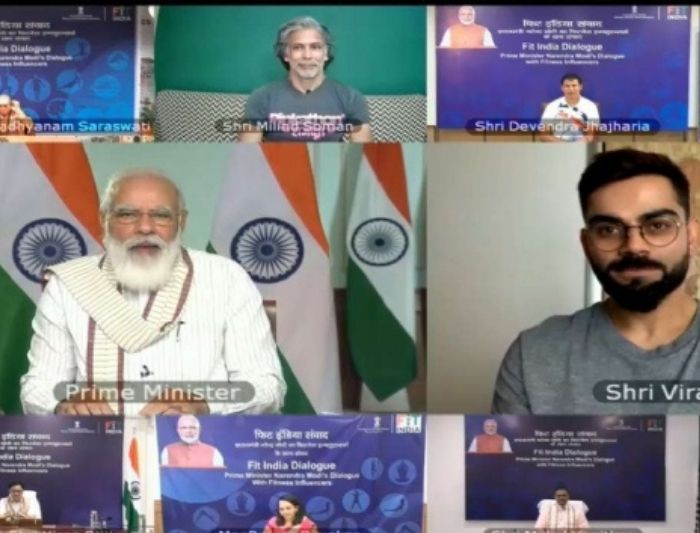 Joking about the Actos age, PM Narendra Modi praises Milind Soman for his fitness journey. Milind Soman points out that his mother has inspired him as she workouts regularly even at the age of 81. He highlights how he can stay fit even in a small space and states how motivation is the main requirement.
PM Modi jokes about Delhi's Chole Bhatures missing Virat Kohli while speaking to him. He also askes him about the Yo-Yo test and Kohli explains that India's fitness index was low and it is a fitness test for the Indian team. They not only converse about fitness but also mental health.
PM Narendra Modi is appreciated by Mukul Kantikar for doing the Suraynamaskar which has inspired many Indians and the prime minister mentions " Fitness Ki Doze, Adha Ghanta Roz"
The Fit India Dialogue 2020 emphasized on both mental health and fitness. PM Narendra Modi encourages more India's to be a part of the Fit India Movement. He quotes "The more 'fit' India becomes the more 'hit' India will become."
Become a part of the Fit India Movement with Fitternity
Use code : ARTSELECT to get an exclusive discount on OnePass Virtual