It is advised to prepare your own meal so that you are aware of the content used to make your meal and track your macronutrients properly. ( Slowly you will enjoy cooking too! )
Do tag Fitternity when you prepare your healthy meals and let us know how you enjoyed them! With great recipes also get your workouts with correct guidance via Fitternity using OnePass Red
Use code: oneart5 to get an additional discount on OnePass Red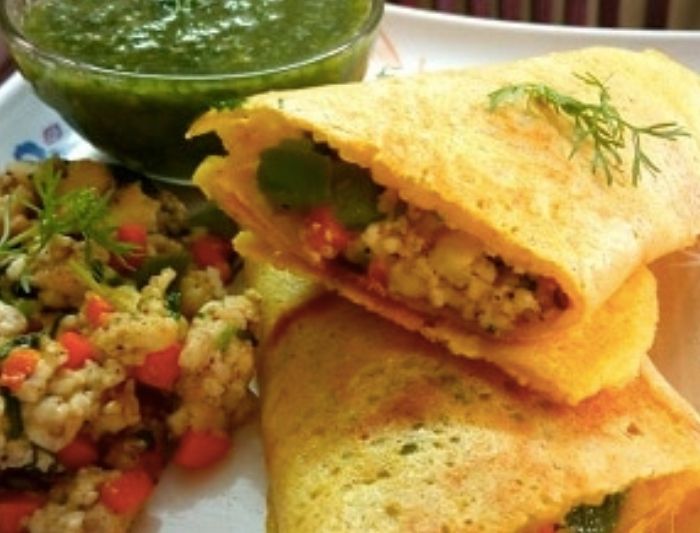 Ingredients
(For the chilla)
Split green gram- 1 bowl

Ginger- 1/2 inch

Green chili- 1

Turmeric powder- 1/4 tsp

Asafoetida (hing)- 1-2 pinch

Salt- As per taste

Clarified butter (ghee)- for roasting the chilla
(For the paneer)
Cottage Cheese (paneer)- 150 gms (grated)

Carrot- 1 tbsp (finely chopped)

Capsicum – 1 tbsp (finely chopped)

Ginger- 1 tsp (grated)

Green chilli- 1 (finely chopped)

Coriander leaves- 1 tbsp (finely chopped)

Black pepper powder- 1/3 tsp

Cumin powder- 1/3 tsp

Dry mango powder- 1/3 tsp

Oil – 1 tsp

Salt – As per taste
Recipe
First, prepare the chilla by taking a bowl of moong dal with water and let it soak for 2-3 hours

Grind the soaked moong dal along with add chili, ginger, salt, turmeric powder, and a little water

Pour the paste into a bowl when done

After this, heat a pan and spread the oil over. Stir chopped chilies and ginger over it

To this, add chopped carrot, chopped capsicum, and stir it. Also, fry the veggies for 2-3 minutes

Then add the grated paneer and stir it along with salt, cumin powder, black pepper powder, and dry mango powder. Do not fry the paneer, just mix all the ingredients and add the chopped coriander to the mixture.

Now, heat up a pan and sprinkle little water and take 2tbsps of the chilla batter and spread it wide over the pan, cook it for 1 minute on medium flame and add ghee on the chilla, flip it back and forth to cook.

Then add the paneer stuffed prepared before over the chilla and fold the chilla over it or roll the chilla

Enjoy your meal with a chutney!
2. Egg paratha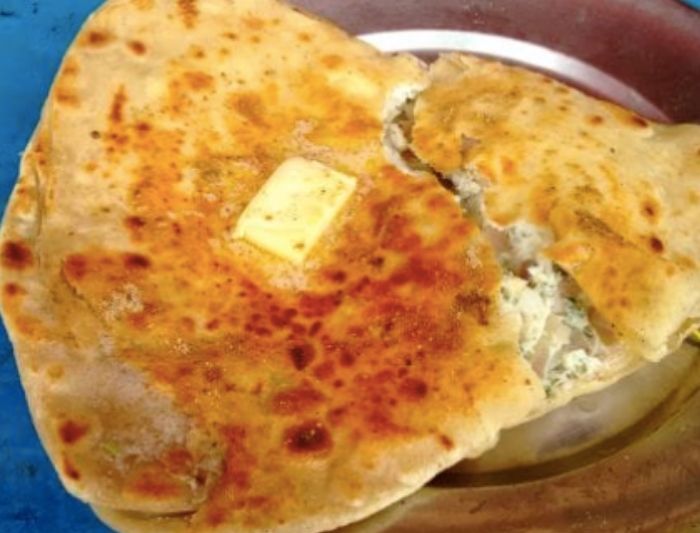 Ingredients
2 cups whole wheat flour

A pinch of salt

1 Tbsp oil

2 eggs

¼ cup chopped onions

1 green chilli, chopped

2 Tbsp coriander leaves, chopped

½ tsp garam masala

Salt to taste
Recipe
Take a bowl and mix flour, salt, and oil. Make a smooth dough using 1 cup of water.

After that divide the dough into 4 balls, then using a rolling pin, roll out the dough balls evenly and fold it twice to make a triangle.

In another bowl, whisk the eggs along with chili, onions, coriander leaves, garam masala, and salt.

Now, put the rolled dough on a hot pan and let it cook for 1-2 minutes on both sides while adding a little oil on the surface and let it cook for a bit.

Once the edges get crisp, slit using a sharp knife along the folds and add the half quantity of egg. Then tilt the paratha so that the egg mix slides in well.

Add some more oil on the paratha and press the surface gently, cook until it fluffs up and enjoy your meal!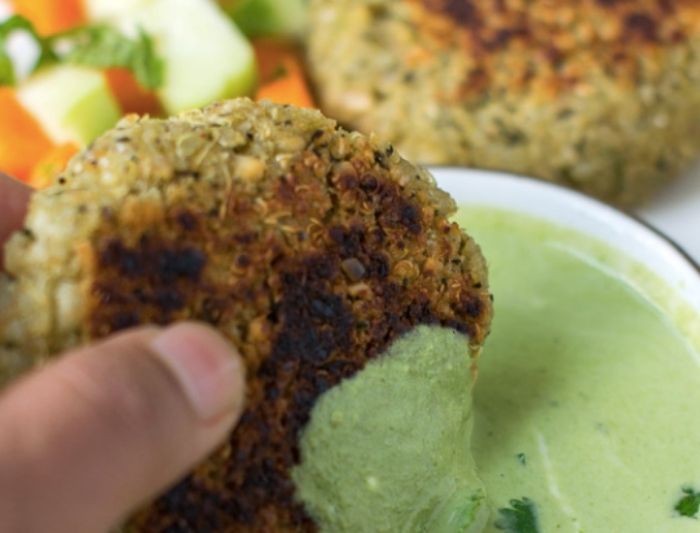 Ingredients
1 cup grated Paneer

Oil/ ghee for brushing the tikkis

For pressure cooking , See notes for other options

½ cup uncooked Quinoa pre-washed OR see notes.

Pinch of salt

1 cup water

1 plantain/ raw banana washed , pricked and cut in half
For making green masala
½ cup roasted peanuts without skin

Fistful of Mint leaves

Fistful of Coriander/ cilantro leaves with tender stems

2 green chilis or adjust to your spic level

1 " knob ginger OR ½ tablespoon grated
Other Spices
1 teaspoon cumin powder

½ teaspoon garam masala optional

2 teaspoon lemon juice

Salt to taste

A couple of twists of black pepper
Recipe
Make the green masala by blending mint, coriander, roasted skinned peanuts, and green chilies, grate the paneer.

Cook the quinoa in a pressure cooker or instant pot method with water and salt.

Mix all the ingredients and add the spices.

Make the tikkis that are approx. 2 " broad and ¼ " thickness

Place the tikkis on a tawa and brush it lightly with oil or ghee.

Cook it for 2-3 minutes on each side and enjoy your meal!
Try these three high protein meals and get your workouts on track with Fitternity using OnePass Red
Use code: oneart5 to get an additional discount on OnePass Red