Healthy Chocolate Dessert Recipes
While trying to get to your goal body, you may feel like you are compromising on a lot and having to give up on chocolate can be a little frustrating. But just like how you can have healthy food that is delicious, we are here to ensure you have access to these healthy chocolate desserts that you can have without cheating on your diet. Here are 3 such recipes which you can have guilt-free for breakfast lunch or dinner and start your workout today with OnePass, Use code : ARTSELECT to get an exclusive discount on OnePass Virtual
3 Ingredients Healthy Chocolate Bars
Dessert craving that cannot wait? Don't worry, if you have 20 minutes and these 3 ingredients, then we have a super healthy treat for you! Yes, you heard that right, 3 simple ingredients, Dates, Nuts and Dark chocolate. And of course a food processor for this vegan and paleo friendly chocolate dessert.
Ingredients:
12- 15 Pitted Dates; Soaked for 5 mins and drained

1 ½ cup Nuts (Choose from Almonds, Walnuts, Pecans or mix them all up)

1 cup dark Chocolate Chips; melted
How to Prepare:
Combine the nuts and dates in a food processor and blend till you are left with a mixture that is sticky.

Have a flat pan ready with butter paper to set for your chocolate bar

Transfer the mixture on the pan, pressing evenly into all corners and press down flat

Pour melted dark chocolate on to the pan

Place the pan in the freezer for 10 mins allowing the chocolate layer to set

Remove bars from the pan and cut it into even pieces using a knife. Enjoy!
Minty Chocolate Smoothie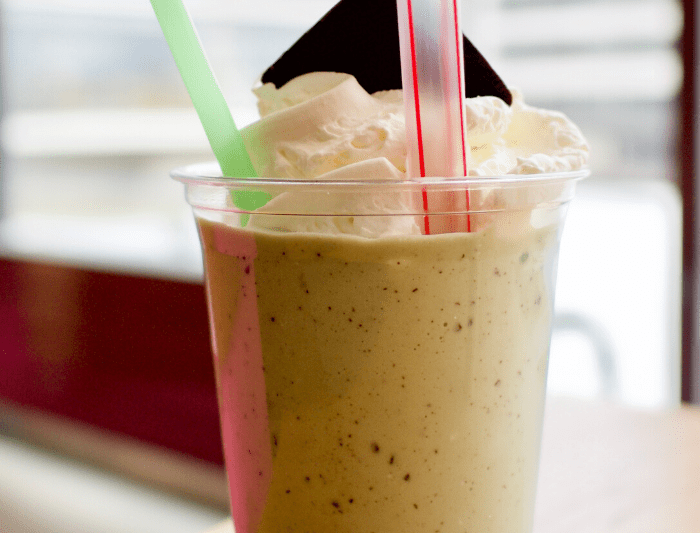 This minty chocolate dessert in a glass is healthy enough for a high protein breakfast smoothie as well. It is thick, creamy and satisfying with no added sugar, you can, however, add a tspn of honey if needed.
Ingredients:
1 Cup Milk of your liking
2-3 mint leaves
1 banana; sliced and frozen
1 tbsp Cocoa Powder
Ice
Instructions:
Add all the above ingredients in the blender (except the ice), cover and blend for a min or until smooth

Pour it in two glasses, add some ice to make and top it up with a mint leaf to garnish
Vegan Chocolate Truffle Balls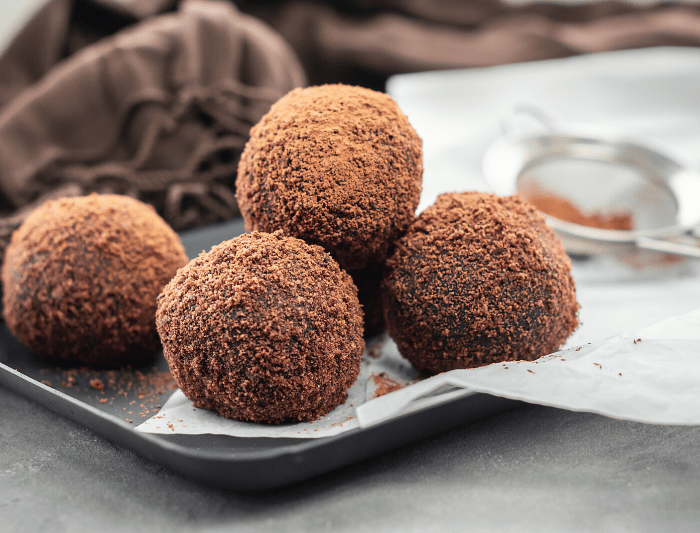 These mini vegan chocolate balls are a lot healthier but equally creamy and delicious. You can make them in less than 20 mins with very few ingredients. So let's get started?
Ingredients:
30 grams of Unsweetened Chocolate
1 tsp coconut oil
2 tbsp nonfat vanilla flavored greek yogurt
1 tbsp honey to taste
20 grams of unsweetened cocoa powder
1 tbsp Almond butter
Instructions:
Melt the chocolate and the coconut in a small container using the microwave by stirring every 20 seconds to ensure it does not get burnt

Add the Vanilla Yogurt, honey and almond butter to the melted chocolate and whisk until completely incorporated

Refrigerate the mixture for 25 minutes or until it hardness enough to give it a shape

Scoop two teaspoons of mixture and roll it to form truffles using your hands.

Roll the truffle ball in cocoa powder and refrigerate until ready to use
Looking to get fit?
Get started withwww.fitternity.com using OnePass Virtual
Use code : ARTSELECT to get an exclusive discount on OnePass Virtual